"Troubleshooting Pump Cavitation" at the Iowa Water Well Association
We will present "Troubleshooting Pump Cavitation" at the 2022 Iowa Water Well Association conference in Altoona on Friday, January 28th. It's a popular presentation with lots of practical value. Attend the conference and join us!
Water pressure boosters promote health and safety
Reliable domestic water pressure isn't just important for quality of life. It's also crucial for fire protection as well as for water safety -- low pressure events can be a source of dangerous contamination. If your community isn't getting enough pressure at the far reaches of the distribution system, we offer booster stations from Gorman-Rupp and Patterson Pump Co. that can efficiently and reliably keep water flowing at just the right pressure. Learn more and download literature from our booster station section.
Snowball Conference one week from today
Come see us in Kearney, Nebraska, one week from today at the NWOD/LONM Snowball Conference. We will be delivering two presentations on Wednesday (January 26th): "Pump Cavitation 101" at 2:15 and "Energy Efficiency: Controlling Blowers with Valves and VFDs" at 3:15. The Snowball Conference is a great oportunity to earn up to 10.25 wastewater hours and up to 5 water hours.
Mixing and aeration all in one
Gorman-Rupp's new EchoStorm Venturi aerator eliminates the maintenance hassles associated with lagoons and large tanks while providing mixing and aeration together in one simple, operator-friendly package. Directly aerate from 50 gpm up to 1300 gpm of water by pumping it directly through the EchoStorm, while ensuring that your tank, pit, or lagoon is thoroughly mixed. All O&M is handled safely on dry land, and can usually be performed by a single operator. And it's all based on the most reliable pumps in the market: Gorman-Rupp self-priming Super T and Ultra V Series pumps. Learn more on our Venturi aeration page.
Water utilities and cybersecurity: Time to boot up
There have been too many cybersecurity incidents involving water utilities for our sector to delay action any longer. It's time for everyone to get on board with some basic cybersecurity hygiene practices so we can continue being responsible guardians of public health. Here's our "Cybersecurity 101" presentation for water and wastewater utilities -- available for delivery upon request at your next conference (as are any of our dozens of educational presentations):
Rescue the rescuer first
Attendees at the Iowa WEA annual conference had an opportunity to catch our presentation "Rescue the Rescuer First" -- all about how critical it is that the water sector treat its own operators as well as it treats customers. Seeing the slides alone without the full presentation is only getting part of the story, but you may find these educational:
All of our presentations are available for delivery at qualified events for free and at other events (like those outside our geographic market) for a reasonable fee. Contact us to schedule one of these carefully-prepared and well-reviewed educational sessions for your own event.
Dealing with Mother Nature's Attitude Problem
Whether you subscribe to anthropogenic explanations of climate change or not, it's clear that Mother Nature has an attitude problem -- one that has, in recent years, assaulted us with droughts, floods, ice storms, and bomb cyclones. Few, if any, of these major weather events have occurred with substantial warning. Water-sector utilities need to act now to prepare for the unknown. Here are perspectives and resources you can use:
Don't make the same mistakes twice
We believe that water, wastewater, and stormwater systems are too important to let silly mistakes slide. That's why we've compiled a list of 25 Ways to Screw Up a Lift Station Design (and, of course, how to avoid them). Participants in today's Iowa WEA Region V spring training workshop heard all about them today. If you missed the event, here's the slideshow:
It's much better delivered with our commentary and explanation, of course. To schedule this presentaton for a training session or a lunch-and-learn event, contact us and let us know how we can help you. We're fully equipped to deliver it virtually to you, anywhere you are.
And if you're looking for this presentation in a handy checklist format, then good news: we've got you covered.
New self-priming pumps from AMT, available now in our store
AMT has introduced three new self-priming electric pumps, available now in our online store. With motors sized up to 15 hp, you can move more than 600 gpm or achieve heads up to 114'. The self-cleaning, semi-open impeller can pass solids up to 1/2" in diameter. And the price is shockingly affordable. Check out the AMT 4870-series today.
Stop wasting maintenance dollars on your blowers
The cost of maintenance is very real -- as it has been put elsewhere, "If you don't put maintenance on your schedule, your equipment will schedule it for you." It's essential to set aside both time and money to do the job right.
But if you can simplify your equipment so that there are fewer moving parts and fewer items requiring regular attention, you can take big strides towards reducing the cost of maintenance (and as a result, reducing the total cost of ownership).
Hoffman has made a big step in that direction with the new Revolution Plus line of turbo blower. These blowers deliver a wide range of speeds using an innovative drive system that delivers extended bearing life and extremely low maintenance costs (with just one moving part), and their high efficiency can deliver energy savings of up to 40%. For most wastewater treatment plants, that could mean a giant reduction in operating expenses.
Contact us with your questions or to schedule an aeration audit to find out whether these or other Hoffman blowers are right for your plant.
Backup pumping power
As of 5:00 this afternoon, MidAmerican Energy has resumed service to almost all of the customers who lost power in last Monday's derecho, but there are still 65,000 customers of Alliant Energy still waiting for the lights to come back on. It's hard to convey just how bad the storm was -- the official figures are pretty dry, but the videos are not. It was (and remains) a major catastrophe. Resuming utility service is of course a critical matter -- you can't rebuild without water, power, and sewers. If you haven't reviewed our presentation on backup pumping systems, please do take a look before you work on your next station installation.
If you in Eastern Iowa and were counting on portable generators to keep a lift station running for a week or more, you're probably facing incredible bills for overtime labor and challenges finding diesel by this point. And redundant grid access probably wouldn't have done much good either -- not with a damage path at least 100 miles wide and easily visible from space.
Remember that engines are an allowable backup option under Iowa and Ten States Standards. A fixed engine backup powered by natural gas can stay in service indefinitely without the need for constant babysitting and refueling. It's also worth noting that an engine backup can work even if the station were to, for example, take a direct hit from lightning that wiped out the control panel. If you have an ignition key, you can start an engine. This is why so many communities have chosen Gorman-Rupp's Auto-Start lift stations. For comparable (and often even lower) total cost than a station with a fixed generator backup, you can have a fully-integrated engine backup always standing ready at your lift station, prepared to instantaneously take over if the power goes out.
The lights are back on
In case the news hasn't made it to wherever you are, the state of Iowa got hit with a powerful derecho on Monday morning. It's being compared to an inland hurricane, and for good reason -- the wind gusts were measurable at nearly 100 mph and came with extraordinary driving rains. The crop damage probably covers 10 million acres, or about a third of the state. It was intense.
Power went out (and with it, most Internet access) and it is still being repaired (ours just came back tonight). Cedar Rapids, the second-largest city in the state and a major industrial center, is reeling even worse than we are in Des Moines.
So, if we've been a little slow to get back to you this week...that's why. Things are going to take some time to get back to normal, but we're working overtime to get back up to speed. As always, we are here to serve the public water sector in whatever ways we can.
These lift stations are out of sight!
Sometimes the highest priority for a pump station isn't function or reliability -- it's invisibility. When you have valuable real estate and you want it to have an unbroken view, it's understandable that you might want your lift stations to be neither seen nor heard.
Lots of engineers have a gut instinct that a wet-pit submersible pump station with a below-ground valve vault will offer the most invisible option possible. But there's a way to hide a lift station even better than that.
You see, unless you go to some pretty extraordinary lengths, a submersible pump station is still going to have several features that show up above-ground: Power connections, a control panel, a pump hoist (or at least someplace to put it), and in many cases, a fence for safety. And you can't easily hide these things, since you'll almost always need some kind of access for a truck in case the pumps have to be pulled.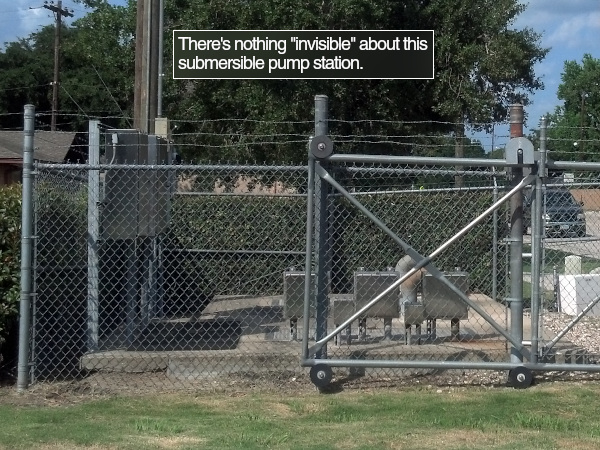 And that's not saying anything about provisions for backup power in case of an electrical outage.
We're here to tell you that not only is there a way to make a lift station even more invisible than a submersible, but also longer-lasting and easier to maintain. The answer is found in the Gorman-Rupp Reliasource below-ground station configuration, using self-priming Super T Series or Ultra V Series pumps.
These stations are available in two diameters: 7.5' and 10'. They come in completely self-contained fiberglass units that can be buried next to the wetwell. The enclosure comes with a water-tight access hatch and entrance tube, providing near-perfect invisibility to anyone passing by. The entrance tube includes an inlet and outlet for the safe and dependable exchange of air by the integral ventilation system (ensuring maximum operator safety). The rest of the station is kept completely out of view -- but also safely separated from the hazards of the wetwell.
Enhancing the safety of the below-ground station is the way it permits operators to conduct any required maintenance or service on the pumps without ever exposing themselves to the wetwell. The pumps use their suction-lift capacity to bring the water up through the suction line before discharging it to the force main. Thus the pumps stay wet on the inside but dry on the outside. And they are driven by ordinary TEFC, ODP, or XP motors powering the pump through a V-belt configuration. That means there's no depending on exotic motor types or cooling jackets, nor is there any need to pull the pumps for routine inspections.
In fact, virtually all maintenance, service, and repair can take place with the pumps and motors remaining safely in place inside the station. A pump could be completely rebuilt in place without ever removing the pipes or lifting the casing. Don't overlook the fact that a self-priming pump can shave 25' off the excavation required for a dry pit -- so even where a deep wet well is unavoidable, one of these pump stations could bring your operators (and all of their tools) 25 feet closer to the surface.
And these pumps last, too. External sight glasses make it easy to check on seal and bearing oil levels with just a glance, and external shimless adjustment means that the pumps can be maintained in peak efficiency without any operator having to encounter the liquid inside. The typical configuration for a Gorman-Rupp municipal self-priming pump will pass a 3" diameter spherical solid, and if the worst-case scenario comes about, the pump can be unclogged through the easy-access coverplate and put back into service in a matter of minutes, at a fraction of the time it takes to unclog a submersible (and none of the cost of calling a service truck).
All told, it's not unusual for these pumps to remain in service for decades at a time with little more than some routine inspections and the occasional oil change. And even when you're pumping the worst, you can rest assured that most of your pump is completely dry and the motor will never be submerged (plus, material upgrades to austempered ductile iron and high-grade stainless steel are available if you really need them).
Best of all, the whole package is factory-assembled and tested before shipment, so you can be confident in a quick installation and a dependable startup.
So if your first priority is to keep your lift station out of sight, the Gorman-Rupp below-ground station option is the best choice for a comprehensive solution that values operator safety, low visibility, and long-term reliability. Contact us for more information or for a look at the options.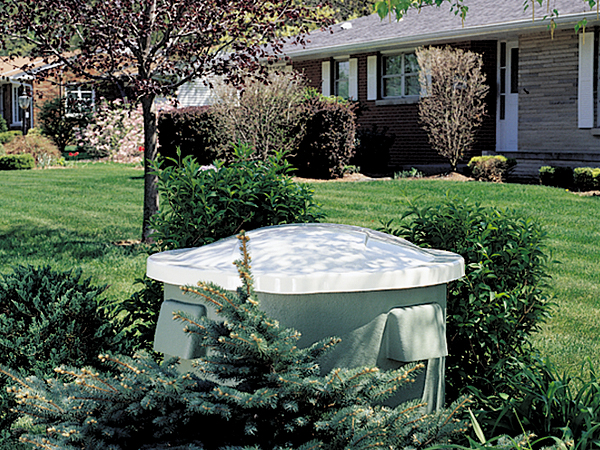 Easier ammonia measurement
Iowa's revised water-quality standards are forcing some lagoon systems to face tougher limits for ammonia than they're used to observing. If you're in that boat, consider ATI's Q46N dissolved-ammonia monitor, which permits you to monitor ammonia with a simple, on-line monitor. The system is simple and compact, and it costs a lot less than competitive instruments. Contact us for specs, pricing, and options for a trial installation.
A free tool for budget savings
It's becoming clear that many municipal budgets are going to be under stress in the coming year, as the pandemic raises many costs while it also cuts into revenues. It's not always easy for water and wastewater utilities to cut operating expenses while remaining in compliance, but nobody wants to cut salaries at a time like this, either. We'd like to offer access to a tool that might help.
Thanks to our new relationship representing Hoffman and Lamson blowers to wastewater customers in Iowa, Nebraska, and South Dakota, we can offer you access to audits of energy use that can uncover major aeration blower power savings and help with cost reductions. Typical wastewater sites can experience an energy savings of 20% or more by taking action based on these audits. (Find out what's involved.)
In addition, incentives can help fund recommendations from our audit. These audits are a $3,995 value, but for a limited time, we can have those charges waived and offer audits to qualified plants for free. We would be happy to present this to you and discuss further, so please let us know if you are interested.
We realize that due to Covid-19, most site visits are restricted. We can provide you with a program overview and all of the information you require to make an informed decision on the value to your plant via a video presentation over Skype, Zoom, or Teams at your convenience. Then, when the time is right for travel, we can get your energy audit on the calendar.
Our team wishes you good health and safety at this time. Please let us know anytime if we can be of service to you.
Hoffman and Lamson bring more than 100 years of experience in quality and innovation to your blower needs. Contact us to get started.
A simple diversion
For those applications where simple flow diversion is needed in an open channel, stop gates are an economical measure for getting the job done. We have supplied Golden Harvest stop gates and frames on projects serving in applications like headworks (where they can be used to isolate a channel containing a mechanical bar screen or a grit trap, for example) and disinfection systems (where a UV disinfection channel might need to be taken out of service for lamp replacement), but also in flood-control and storm diversion applications as well. Aluminum and stainless steel construction are both available. Contact us for more information on stop gates anytime.
Biological nutrient removal (BNR) aided by baffles
For those operators and engineers looking to improve biological nutrient reduction by separating aerobic from anoxic zones, we would like to highlight the effectiveness of creating that separation by using tank baffles from Environetics. They're literally flexible (in the sense that they're mostly composed of geomembranes), of course, but they're also installation-flexible -- they can be retrofitted into existing concrete structures or moved, altered, and adapted to suit changes in condition. The pricing is highly economical, the materials are durable and long-lasting, and the installation process is much easier than for any other type of control structure. Contact us for more information.
Virus detection at the wastewater treatment plant
A story in Water and Wastes Digest says that a Dutch city of 150,000 found evidence of coronavirus in its wastewater before any cases had been otherwise detected in the city, just a week after the virus was first detected in the Netherlands.
The good news: This suggests that wastewater-level detection could provide useful surveillance to public-health experts as an accessory to the test, isolate, and trace protocols being discussed as the best means of dealing with the virus until vaccines are available. More information gathered at the community level can help identify hotspots that might be experiencing asymptomatic spread.
The bad news: It still isn't clear whether the virus can actually be transmitted in wastewater, either in the liquid flow or otherwise. Drinking water remains safe, but we also need to show concern for the public-works employees responsible for the collection and treatment of wastewater. They are invisible -- but essential -- front-line workers protecting public health, and they need adequate protection, too!
We have always believed that one of the most important ways to protect workers in the wastewater sector is to keep them in safe, above-ground locations wherever possible -- where fresh air and limited exposure to sewage can preserve their health. With the uncertainty surrounding the transmission of COVID-19, that's suddenly more true than ever. See our presentation "Revenge of the Mole People" for a list of 25 related reasons why it's important to keep wastewater workers above-ground (or as close to the surface) as possible, and 10 ways that lift stations can be designed to maximize that potential to stay high, safe, and dry.
We're here to help: Any platform, any device
We realize that social distancing is going to be with us for a while, so to accommodate your needs, we're ready to help you on whatever platforms or devices are most helpful to you. You can reach us in any of the following ways:
Update to the diaphragm pumps in our online store
Our online store section featuring portable diaphragm pumps has been freshly updated. These are great machines for moving fluids that don't like to flow easily -- mud, slurries, sludge, and the like. They're great for in-plant applications at WTP and WWTP facilities.
Straight centrifugal pumps
Newly updated on our website: AMT heavy-duty straight centrifugal pumps. These tough little pumps come in 2" and 3" sizes and are great for applications like circulation and industrial fluid transfer. Order them online anytime, day or night, through our online store. Most are ready to ship in about two business days.
For more news, visit the
Water News Archives
from 2005 through today